Washable Wonders™ Dog Diapers (Male)
Male Dog Diapers - As Seen On Dragons' Den
The Washable Wonders™ Dog Diapers are specifically designed for male dogs utilizing a wider base and longer waist than the female version, creating the perfect fit and maximum protection. This diaper style is appropriate for male dogs suffering from both bladder and bowel issues that require the protection of a full diaper.
This dog diaper has a highly absorbent microfiber lining, which holds up to 7 times its weight in liquid and a soft waterproof outer shell to protect against leaks - your perfect solution for managing dog incontinence. Give dignity back to your dog and peace of mind to your family.
These effective male cloth dog diapers come in Navy Blue, Hunter Green as well as Traditional Black and fit dogs of all sizes. Use the Velcro flaps and simple snaps to find the perfect fit. 
*Customers from the United Kingdom & Europe click here to order.
Are they waterproof?
Yes, all of our dog diapers and belly bands are made with a waterproof yet breathable PUL material - the same waterproofing technique used by the top cloth baby diapers. In addition, each diaper and band is lined with a soft and absorbent microfiber.
How do I know what size my dog needs?
Measure around his waist, which is approximately 2" in front of his hind legs to find the appropriate size for that waist measurement. If you need assistance, please feel free to contact us and we'd be happy to recommend the best size.
Do I need to use pads with these diapers?
Not necessarily, depends on the situation. The diapers themselves are very absorbent, but you may want to use the pads for heavier urination times such as overnight and travel. The pads are also great at helping to keep your dog dry as they wick the moisture away from their body.
How do I make the diapers smaller?
There are two ways to make the male diaper fit smaller. You can overlap the Velcro to make the waistline snug and you can use the small white plastic snaps to cinch up the diaper.
What's the difference between the male and female diapers?
The male dog diaper is longer and wider than the female version to account for the differences in anatomy. Due to their design, the male diapers fit larger than the female version. To ensure the best fit we recommend choosing the correct design for your dog.
Do these diapers work for dogs with bowel problems?
While designed primarily to protect against urinary incontinence, we have many customers that use the diapers to help with bowel incontinence. The unique tail hole does a great job at keeping everything inside, helping to protect against unwanted accidents.
How do I know if I should use a male dog diaper versus a belly band?
If your dog only has urinary issues then we recommend the belly band. It gives the dog more freedom. If he has both bowel and urinary incontinence, the full diaper is the better option.
Will the male dog diaper work for my dog if he has a very long body?
Our male dog diapers are longer than the female diapers to compensate for their anatomy. They will fit most dogs, but sometimes for the longer bodied dogs the belly band works better if it is a urinary issue.
How do I wash them?
You can machine or hand wash our dog diapers in cold or warm water, but avoid the dryer. The heat from a dryer can erode the waterproof coating, so it is best to hang dry them.
Customer Reviews
Write a Review
Ask a Question
Filter Reviews:
diapers
quality
size
dogs
Velcro
medium
accidents
customer service
snaps
pads
11/19/2020
Andrea P.
United States
Good quality! Sizing not so much.
The diapers work great! They are good quality and wash very well.The only drawback I have is the size difference between the small and medium diapers. For my dog (who is about 50-55lbs) the small is almost too small and the medium is big with a saggy bottom. I wish there was an in between.
11/10/2020
STEPHANIE K.
United States
The best dog diaper!
I've tried numerous brands of diaper and always had problems with the feces going out the tail hole. These solve that problem!! My cockapoo has cushings so his belly is kind of swollen. Due to this I do use a male wrap under the diaper to keep urine from leaking out. The combination solves all our problems!! Thanks to you we didn't have to consider putting him down.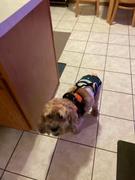 11/04/2020
Velma C.
United States
Recommended
Great. I love how so much thought went into the design to assure a good fit. And my dog has decided not to wet these, yet belly wraps were soaked - go figure!?!
11/02/2020
Jeff T.
United States
Washable Wonders Dog Diapers
I bought this to aid our 15 year old male dog in his night time **** accidents. The XL size was too tight for his tail (he's a golden retriever) to go through and the diaper wasn't able to hold his accidents.
10/28/2020
Robin M.
United States
Male Dog Diapers
Could not get my dog to hold still long enough to put the diaper on him.