Washable Wonders™ Dog Diapers (Female)
|
Washable Dog Diapers - Amazing Fabrics
A thoughtful design and incredible fabrics give you the most effective means of managing dog incontinence available today. Why wait for peace of mind? 
Each female dog diaper uses a unique microfiber liner which holds up to 7 times its weight in liquid and a soft, waterproof yet breathable outer material to help protect against leaks.
These female cloth dog diapers come in purple, pink or avocado green and fit dogs of all sizes. Use the Velcro flaps and simple snaps to find the perfect fit. 
*Customers from the United Kingdom & Europe click here to order.
Our washable dog diapers also work great for managing your dog's heat cycle.
Are they waterproof?
Yes, all of our dog diapers and belly bands are made with a waterproof yet breathable PUL material - the same waterproofing technique used by the top cloth baby diapers. In addition, each diaper and band is lined with a soft and absorbent microfiber.
How do I know what size my dog needs?
Measure around her waist, which is approximately 2" in front of her hind legs to find the appropriate size for that waist measurement. If you need assistance, please feel free to contact us and we'd be happy to recommend the best size.
Do I need to use pads with these diapers?
Not necessarily, depends on the situation. The diapers themselves are very absorbent, but you may want to use the pads for heavier urination times such as overnight and travel. Many customers also use them when the dog is in heat. They are completely washable. The pads are also great at helping to keep your dog dry as they wick the moisture away from their body.
How do I make the diapers smaller?
There are two ways to make the diaper fit smaller. You can overlap the Velcro to make the waistline snug and you can use the small white plastic snaps to cinch up the diaper.
What's the difference between the female and the male diapers?
The male diaper is longer and wider than the female version to account for the differences in anatomy. To ensure the best fit we recommend choosing the correct design for your dog.
My dog is in heat, will the diaper work for that?
Yes you can definitely use our diapers to help manage your dog's heat cycle. Adding a pad is useful too as they are completely washable and there are 10 in a package.
Do these diapers work for dogs with bowel problems?
While designed primarily to protect against urinary incontinence, we have many customers that use the diapers to help with bowel incontinence. The unique tail hole does a great job at keeping everything inside, helping to protect against unwanted accidents.
How do I wash them?
You can machine or hand wash our diapers in cold or warm water, but avoid the dryer. The heat from a dryer can erode the waterproof coating, so it is best to hang dry them.
Customer Reviews
Write a Review
Ask a Question
Filter Reviews:
quality
pads
diapers
diaper
girl
dogs
Velcro
urine
accidents
08/08/2017
Aekaterini B.
United States
Great product and fantastic customer service
My baby girl started to piddle and I was searching for a disposable diaper. I ended up with a small and a medium. And honestly they both work well. I just make the medium on its tightest setting and it works like a charm. The customer service was beyond outstanding! They literally called my house to make sure about my dogs measurements. I mean, who does that anymore?! They were so nice and just cared. The product itself is just fantastic. Everything is jut thought out. The tail hole, the way it goes on. Just great. Would not even consider another option than this.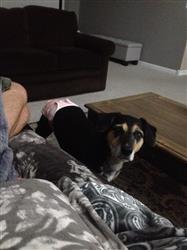 03/30/2020
Susan E.
United States
03/27/2020
Sara
United States
great!
This diaper is awesome. It fits my 50lb mixed breed extremely well. She doesn't even seem bothered by it - wagging her tail and moving normally. I will be ordering a few more to have some to rotate through.
03/22/2020
Julie C.
Australia
Great product
Bought for my female GSD on heat. Good fit and adjusts well for snug fit with Velcro straps. Worked well.
03/11/2020
Fay T.
Australia
Dog diapers is a great relief for owner
It is easy to use, high quality and fit well for different dog body sizes and shapes. A great solution providing dignity to dogs and relief owner from embarrassing situations.