Gentle Rise™ Dog Bed Ramp (PRE-ORDER)
|
ETA APRIL 30th - Begin Shipping Pre-Orders
Help your Senior Dog Access your Bed Safely  

Many senior dogs are physically unable to get up and down safely from your bed and most cannot use steps due to joint problems and vision loss. Our Gentle Rise™ Dog Bed Ramp provides a gradual slope, making it easy and safe for senior dogs to go up and down from your bed. Help your senior dog continue to enjoy the comfort of your bed and avoid the risk of serious injuries that can happen when dogs try and jump down.
The Gentle Rise Bed Ramp hugs your bed, minimizing the amount of space it uses in your bedroom. The ramp's side rail, wide walking platform and sturdy frame help your dog feel secure using the ramp. The side rail can be installed on either side.
The walkway of the dog ramp is covered in non-slip rubber flooring made in the USA from recycled materials that provides maximum grip and cushion to help reduce the pressure on sore joints.
The dog ramp's frame is crafted with pine imported from Finland and the platform (under the rubber flooring) is a finished plywood made from poplar, creating a lightweight, yet strong base. This ramp can easily handle up to 120 lbs in weight. The ramp measures 26" tall from the ground to the platform. This allows it to be safely used with beds a little higher and a little lower. The total width including the trim is 17" and the walkway, with the rubber flooring (not including the trim) is 14". The ramp including the platform measures 74" in total length.
Big or small, your dog will love the ability to easily access one of their favorite places in your home - your bed.
*Assembly required
Do I need to assemble this ramp?
Yes, there is some assembly required but not to worry, we have included written instructions with your ramp or you can click here to watch an easy-to-follow instructional video. We also encourage you to reach out to us with any questions and we are happy to help.
Can the safety rail be installed on either side?
Yes, you have the option of installing the safety rail on either the left or the right side of the ramp.
How much weight can the ramp handle?
The ramp can easily hold 120 lbs.
How would I clean the non-slip rubber flooring?
To clean the rubber flooring you can vacuum any dirt or fur and then if needed, wipe down with a damp cloth. Avoid using paper towel otherwise it will leave white traces in the rubber, so it is best to use a fabric cloth.
Is the ramp adjustable?
The ramp is not adjustable, but can work well with beds several inches higher or lower than 26".
What are the ramp's dimensions?
The ramp measures 26" tall from the ground to the platform. The total length, including the platform, is 74". The walkway, including the trim, is 17" in width and the rubber flooring measures 14" in width.
Customer Reviews
Write a Review
Ask a Question
Filter Reviews:
quality
life
dogs
arthritis
stairs
ramp
assembly
03/11/2020
Becky B.
United States
Gentle Rise Dog Bed Ramp...a MUST have
totally AMAZING!!!! my senior Doxie, Ella took to it immediately
03/10/2020
Gayle R.
United States
Awesome!
We and our Dachshunds love the new dog bed ramp. Easy to assemble, perfect size. We are happy!
03/09/2020
Ashley D.
United States
Amazing!
Absolutely amazing. My sweet baby is getting a tad older and recently hurt herself on the stairs I used to have for my bed. I ordered this ramp so she could have an easier, more secure way to climb up to the bed. She not only took to the ramp easier than the stairs, but it is also much more stable. Very well designed. I am so grateful!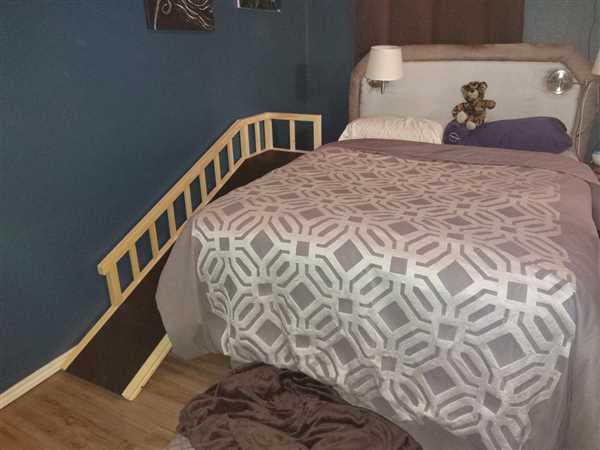 03/08/2020
Jim B.
United States
Very nice ramp, good quality
This ramp is very well made and sturdy. It has a very nice, gentle incline that our two miniature Doxies took to right away. We are very happy with our purchase.
03/08/2020
ANNE R.
United States
Very nice product.
Excellent quality. Our dogs love it.