Dogger™ Stroller
|
Go Anywhere, Do Anything with Your Dogger
The Dogger™, a Dog Quality product, is unlike any other pet stroller on the market. We designed this stroller with senior dogs in mind which is why it is absolutely the most comfortable and sturdy ride for your dog available today.
The Dogger is equipped with real rear suspension allowing you to take any bumps, cracks or obstacles in your path with ease. The basket sits higher up than most strollers allowing your dog to have the best view available which they will LOVE!
The canopy can be used in multiple positions and panels can be removed. Never leave your dog at home again with this high quality stroller made in Canada with more heart than you have ever seen in a product before.
The roomy basket comes with a soft pad for added comfort and mesh windows for maximum visibility. 12" air-filled tires and rear shocks give you and your dog an incredibly smooth ride. And with a front wheel that can swivel, you get 360 degree maneuverability.
This dog stroller is also built to make it comfortable for dog parents with its adjustable handle bars and handy underneath storage.The Dogger comes with a useful rain cover.
*Drink holder, orthopedic pad and safety lights sold separately.
  For long term coverage, the Dogger's 2 year warranty on all frame related parts, represents the best product protection in the market today. 
There are many benefits to using a dog stroller from assisting older dogs or disabled dogs with mobility issues, to helping dogs that need a break from the heat,or a rest from a long walk. A dog stroller is also a terrific means for safely transporting your dog and for keeping them out of harm's way. Whatever your need may be, give your dog the very best - give them a Dogger.
12" Air-filled tires
2 Interior security leashes
Interior Size: 27"L x 13.5"W x 20"H
Folded: 38 1/2" L x 24" W x 18 1/2" H
What does the Dogger come with?
The Dogger includes a rain cover for those wet days and also has a pad for inside the basket. The drink holder, safety lights and a memory foam pad are sold separately.
Will it fit more than one dog?
The Dogger can hold up to 60 lbs - it would not fit a 60 lbs dog, but it can hold multiple smaller dogs. The smaller the dog, the more dogs that can fit. The interior basket measurements are 27"L x 13.5" W x 20"H.
What does your warranty cover?
The Dogger's 2 year warranty covers all frame related parts, but does not include the fabric or the tires. If you have any questions or concerns about your Dogger please reach out - we are happy to help.
What is your return policy?
You can return the Dogger within 30 days of receiving it as long as it is unused and in its original packaging. For your convenience we can arrange the return through our UPS account and then we would deduct that amount from your refund. Please know that we heavily subsidize shipping on all orders, but we cannot subsidize return shipping. Return shipping is typically between $75-$100 due to the size of the Dogger. Once we receive back your Dogger we will process your refund less the shipping costs. We do not charge any restocking fees.
What type of terrain can I use it on?
The Dogger is built rugged and thanks to its 12" air-filled tires and rear suspension, is great for all kinds of terrain such as forest paths, bike trails, roads, sidewalks, even the beach.
Where can I order replacement inner tubes?
You can order inner tubes through us, or you can bring your wheels into a bike shop. Since our inner tubes are a standard size, most bike shops carry them and can even put them in for you.
How much air do the tires need?
The easiest method for filling your tires is to use a simple bike pump rather than a gas station pump. Gas station pumps increase the risk of over-inflation which can damage your inner tubes. When adding air with the bike pump, please ensure that you add enough air so the tires feel firm but not rock hard - in other words you should still be able to squeeze the sides of the tire in with your fingers. If you are located in a hot climate, we recommend putting a little less air in since extreme heat can expand the inner tubes.
Can I adjust the shocks?
The shocks are highly adjustable and it's easy! To increase or decrease tension in the shocks you will need a Phillips screwdriver and a wrench. The screw and nut are just above the shock. When tightening to increase tension in the shock, use the screwdriver to hold the screw and tighten the nut with the wrench. It will take several turns of the nut to feel the shock tighten. DO NOT USE the screwdriver to tighten as you will likely strip the screw. You must tighten using the wrench. To reduce tension in the shock, hold the nut in place with the wrench and loosen with the screwdriver - when loosening it is fine to use the screwdriver. Again, just a little adjusting at a time until you have it just the way you like it.
My front wheel wobbles, what can I do?
If you find that your front wheel is shaking or wobbling don't worry - all this requires is a very simple adjustment. First remove the black plastic wheel cover that sits above the front wheel held in place by four screws. Once removed, you will see a nut holding the front wheel in place. Then using a wrench, turn the nut a very small amount at a time until the wobble is gone. If the wheel becomes stiff that means you have tightened it too much and you will need to loosen the nut slightly until you have the maneuverability you need.
Can I jog with the Dogger?
Yes you can definitely go jogging with your Dogger, in fact that is where its name comes from Dog + Jogger = Dogger. To see a video demonstration of jogging with the Dogger click here.
How does the Dogger fold?
You can easily fold the Dogger by pulling up on the finger grips found on each side and pushing down to complete the fold. Once folded you can secure the folded Dogger with the latch found on the side of the frame. To watch a demonstration please click here.
How much weight can the Dogger hold?
The Dogger can hold up to 60 lbs. A dog that weighs 60 lbs would not fit in the basket so it is important to ensure that your dog would fit comfortably within its dimensions 27"L x 13.5".
How do I release the buttons to raise and lower the front of the basket? They seem to be stuck.
Sometimes during shipping the buttons that allow you to raise or lower the front of the basket can get stuck. The easiest way to release them is to press each button with both your thumbs until they release. You may need to place your Dogger back into the folded position first and then press the buttons to release them. Once released you will not have this issue again.
How much does the Dogger weigh?
With all the wheels on the Dogger it weighs approximately 24 lbs. You can make lifting it into your car even easier by first removing the wheels which drops the weight down to roughly 17 lbs.
Customer Reviews
Filter Reviews:
quality
stroller
wheels
dogs
walks
walk
Dogger
ride
strollers
The reviews are right
I love the Dogger. I purchased a different jogger type stroller via Amazon but returned it immediately due to a piece that broke while testing the stroller. That caused me to do a more in depth research into strollers and I found the Dogger way down on the list of similar type of strollers on Amazon. I read all the reviews and was convinced that the extra cost was worth it. I ended up calling Dog Quality and purchased directly through them which allowed me to select a different color and reduced the cost a bit. I also ordered the handbar storage attachment and the pad. I love that the stroller is made in Canada and it has worked very well for me and my dog. I let him walk on the leash for a while, more like a very slow stroll while he sniffs and pees, and then when he looks like he is ready I pop him in the stroller and off we go. Before I would have to leave him home if I wanted to go for a real walk but now he gets to come along and I have my buddy with me. Most people comment on how spoiled he is and then I feel obligated to tell them he is 14+ years old and the stroller is the only way we can get out for longer walks. The picture I included was from when we first started to use the stroller and Toby was more comfortable facing me. Now when we walk he faces forward, he can't hear or see very well but he seems to enjoy it.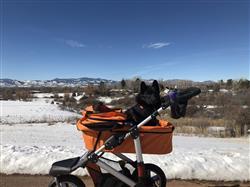 11/13/2019
Charlotte L.
United States
Dogger Stroller
Best stroller out there folks! My dog loves it! Light weight and easy to push! By far the caddie of dog strollers!
11/10/2019
Cheryl M.
Canada
Excellent Stroller
Pros: 1. Extremely well-made and sturdy 2. The best tires ever 3. Very easy to maneuver 4. Looks great 5. My dog LOVES it Cons: 1. I am bothered by the large word Dogger on the front of the stroller. It has stopped me from going into places because it screams dog stroller, and that's not really what I was looking for in a stroller. I am going to have to either paint it over or cover it with fabric which bothers me a little bit considering how much I paid for this stroller. Maybe the Dogger company would consider offering the choice of having the word Dogger on the front of the stroller or not. When I asked before I purchased the stroller, I was told it was not possible. I'm not quite sure why this would not be possible. 2. It is pretty darn heavy. It's too heavy for me to be honest. And just to confirm, it's heavy when it is folded up and you have to carry it, it's not heavy to push. I was hoping to be able to close it up and carry it on public transit, and it is way too heavy for me to manage that. I find it difficult to get it up and down the 10 stairs to my apartment. Twenty-five pounds doesn't sound heavy, but it's too heavy for myself personally. Maybe if you only have to move it from your garage to the trunk of your car, it might be OK but it's not a stroller that you can easily bring on transit. I was a bit disappointed with that because I like to take my little guy lots of different places and another reason why the giant word Dogger is not helpful on transit. BC transit where I live will not allow a dog stroller but when I cover the word Dogger we can ride the Skytrain no problem. All in all, this is my favourite stroller of all time. I've tried budget strollers and I've also tried more expensive strollers and this one is easily the best. It's given myself and my dog the chance to go on long walks and outings again, he just gets so excited when I ask him if he wants to go for a ride in his stroller.
11/02/2019
Carol C.
United States
A big thank you woof from Ruby Dew!
My 13+ year old Corgi, Ruby Dew, is slowing down on our walks and the 2year is definitely not worn out due to our shortened walks. The Dogger is a great solution for all 3 of us. Ruby weighs in at 25# with a long back. She is comfortable laying down or sitting/standing up. We put the Dogger through its paces, going up/down curbs, slogging through thick grass, using the brake,etc. I am amazed how easy the Dogger met the challenges, no instability, easy to maneuver, plus how smooth the ride is for Ruby. I am a 5'7" walker and the adjustable handle bar allows me to walk without putting any stress on my back. The Dogger arrived quicker than expected in excellent condition. Wheels were a breeze to put on. Thank you for a great product, well worth the the price.
10/27/2019
Clarence H.
United States
Dogger jogger in deep beach sand
We took our new Dogger to the beach not sure if it would do well in the deep loose sand. IT IS AWESOME , even when the sand was very loose and hard to walk in it stayed on top and pushed easily. We cannot find any faults in the Dogger jogger at all. All terrain at its best !! Flawless, Easy to use, simple assembly. HIGHLY RECOMMEND. A definite 10